Data breaches, identity theft, online and phone scams are a reality in our lives today. Never reveal sensitive financial information to a person or business you don't know, whether they reach out to you via phone or text.
Please be aware that the International Institute of Physics, IIP, does not request payment information of any kind. Scammers sometimes approach participants claiming to be able to provide accommodation and asking for credit card information. Please do not give any information away. IIP will be in touch via official email regarding accommodation and financial support for qualified applicants. If you have any questions, please contact IIP events department at events@iip.ufrn.br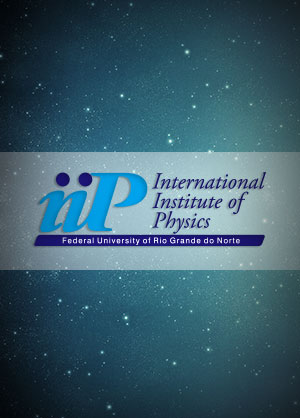 The Beauty of Integrability: low-dimensional Physics, Statistical Models and Solitons
School and Workshop | 2012
Directors:

Directors:
Francisco Alcaraz, IFSC, Universidade de São Paulo (São Carlos, Brazil);
Giuseppe Mussardo, SISSA-ICTP  (Trieste, Italy);
Paul Pearce, University of Melbourne, (Melbourne, Australia).
Workshop fees
Students             = USD 150,00 / €120,00 / R$ 300,00
Professionals     = USD 150,00 / €120,00 / R$ 300,00
Payment must be made - in cash - on the first day of the workshop in one of the currencies listed above.
Location
The school will be held at the Auditorium of the Physics Department (DFTE) at the Federal University of Rio Grande do Norte (UFRN) - inside the campus.
Description:
This workshop will provide the opportunity to bring together experts working in closely related topics of theoretical physics, under the common umbrella of Statistical Mechanics, Conformal and Quantum Field theories, Solitonic descriptions of non-linear physics and Complex Systems.
Integrability is one of the most significant concepts of modern science, characterized by a wide spectrum of applications and fascinating mathematical properties. Moreover, striking experimental advances in topics such as off-equilibrium and thermalization properties of quantum systems, quantum spin chains, anyonic systems, and so on, have promoted the subject to be one of the most phenomenologically relevant fields of the last years and one of the most active. These advances have created an ideal physicist's playground, in which purely theoretical and abstract subjects come in close contact with the experimental world --- and the more one looks at these recent developments, the more one experiences the pleasure of new discoveries. With its theoretical creativity and experimental originality, this scientific area has swiftly become a rich source of new perspectives on a wide range of phenomena which lies beyond the compass of established concepts. From a theoretical viewpoint, concepts borrowed from integrability have opened up the way for an exact approach to the critical properties of many quantum statistical systems. Thanks to these advances, the field has grown explosively in many directions throwing up the possibility to realize, for the first time, robust quantum computation algorithms by braiding operations of anyons or to accomplish a controllable experimental setup of an ensemble of ultra-cold atoms.

Inquires:
Francisco Alcaraz e-mail: alcaraz@if.sc.usp.br
Giuseppe Mussardo e-mail: mussardo@sissa.it
Paul Pearce e:mail P.Pearce@ms.unimelb.edu.au