Please be aware that the International Institute of Physics, IIP, never contacts the participants to ask for credit card or similar information. Participants are expected to pay for their travel and accommodation by themselves unless they qualify for financial support. If you have any questions, please contact IIP events department at events@iip.ufrn.br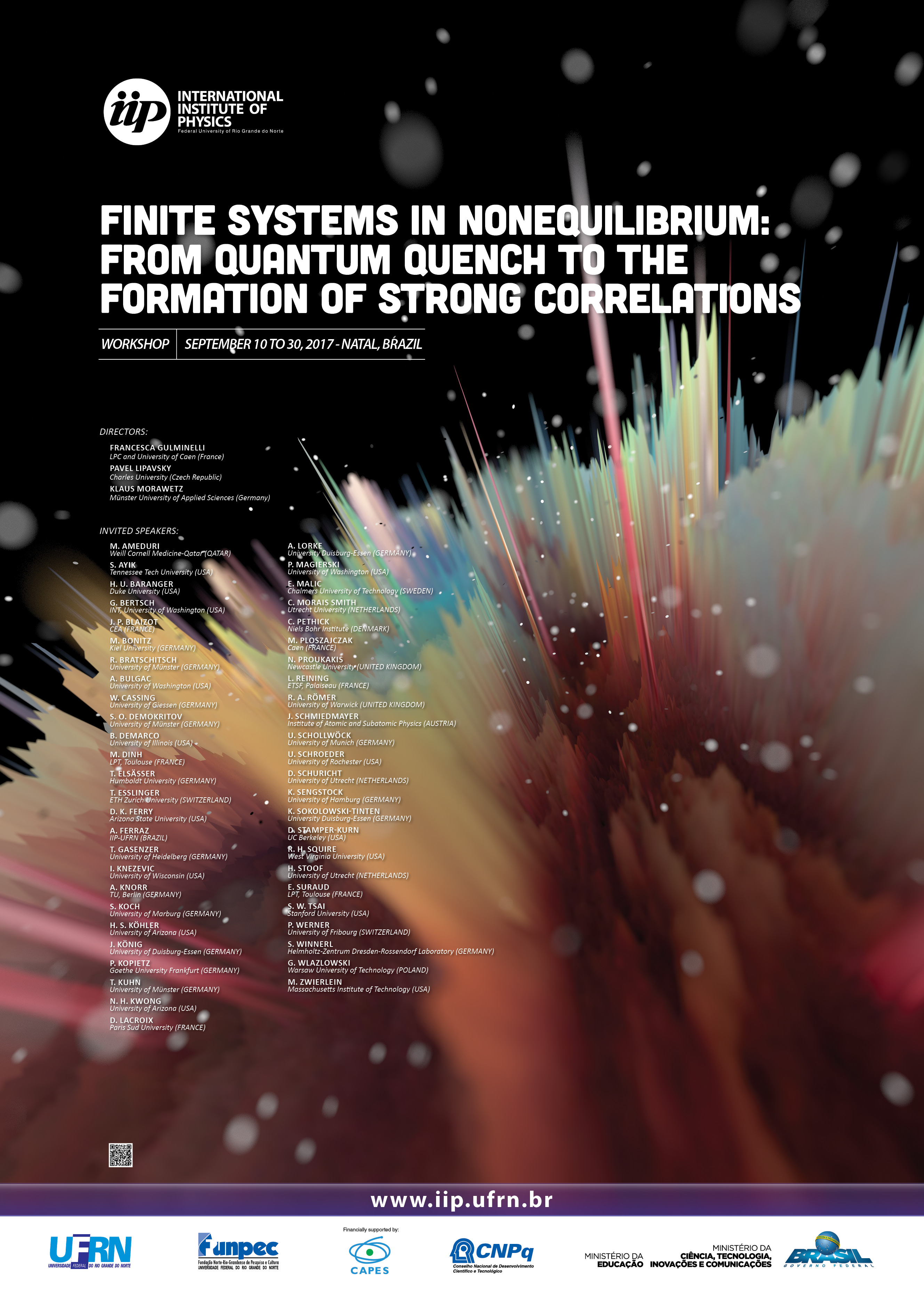 Finite Systems in Nonequilibrium: From Quantum Quench to the Formation of Strong Correlations
Workshop | 2017
Directors:

The interdisciplinary workshop provides the possibility for presenting and exchanging progress in the description of nonequilibrium phenomena in finite systems. Experiments on very short time scales are characterized by transient phenomena like the formation of correlations and quasiparticle excitations far from equilibrium. Since the successful preparation of a Bose-Einstein condensate in atomic traps more than two decades ago, ultracold atoms have proven to be an extremely fertile ground for investigating finite systems of interacting bosons and/or fermions in a highly controlled environment. Quench experiments open the possibility to follow the way from sudden switching to the formation of strong correlations. Conventionally applied theoretical techniques have to be critically reviewed, and new theoretical concepts have to be discussed. The development of reliable methods is of great importance for designing and fabricating today's nanostructures. In this workshop we intend to bring together leading experimentalist and theorists working in this area to present their latest work and exchange ideas. The main emphasis of the workshop is on the behavior of strongly correlated systems in non-equilibrium situations.
Applications for participation and poster contributions are welcome and should be made by using the application form on the workshop web page (Registration). Some abstracts will be selected for short talks. The number of attendees is limited.
CONFERENCE DATES:
September 18 to 22, 2017 proceeded and followed by one-week topical workshops.
REGISTRATION FEE:
Students = R$400,00 Brazilian reais.
Postdocs/Professionals = R$800,00 Brazilian reais.
Registration fee: The fee covers Lunches, Conference Dinner, and transportation from the hotel. All the participants are expected to pay the registration fee. Members of the local community (institutions in Natal) are considered as free listeners and are exempt from it.
*Registration fee is accepted in cash only.
FINANCIAL SUPPORT:
Available for those who qualify for financial help. You may apply for financial support when filling out your registration form.
For more information, please contact our events department at events@iip.ufrn.br
VISA:
Some countries are exempted from Visa requirements to enter Brazilian Territory. Please, make sure to know if you will need a visa.
Please, check here for more information.
YOUR STAY:
The participants who will receive accommodation support will stay at the Holiday Inn Express, in Ponta Negra. You can check it here
THE CONFERENCE:
The workshop will be held at the new building of IIP, inside the University Campus. The University Campus is 10 minutes away from "Ponta Negra Beach" which is the most popular beach in town and where our Invited Speakers/Participant will stay. The IIP will cover their accommodation at the Hotel Holiday Inn Express.
Every day, during the conference days, there will be a shuttle to take the participants from the hotel to IIP.
Please, find below some pictures of our building.
TRANSFER FROM THE AIRPORT:
Natal's airport is located 40km away from the Ponta Negra Hotels, where most of you will be staying. For this reason, we can arrange you a pickup transfer from the airport to the hotel. This has a cost of BRL 80,00. You can let us know at events@iip.ufrn.br
IN CASE OF ANY QUERIES, DO NOT HESITATE TO CONTACT OUR EVENT ASSISTANTS:
Stivny Batista: stivny@iip.ufrn.br
Rafael Lemos: rlemos@iip.ufrn.br