Data breaches, identity theft, online and phone scams are a reality in our lives today. Never reveal sensitive financial information to a person or business you don't know, whether they reach out to you via phone or text.
Please be aware that the International Institute of Physics, IIP, does not request payment information of any kind. Scammers sometimes approach participants claiming to be able to provide accommodation and asking for credit card information. Please do not give any information away. IIP will be in touch via official email regarding accommodation and financial support for qualified applicants. If you have any questions, please contact IIP events department at events@iip.ufrn.br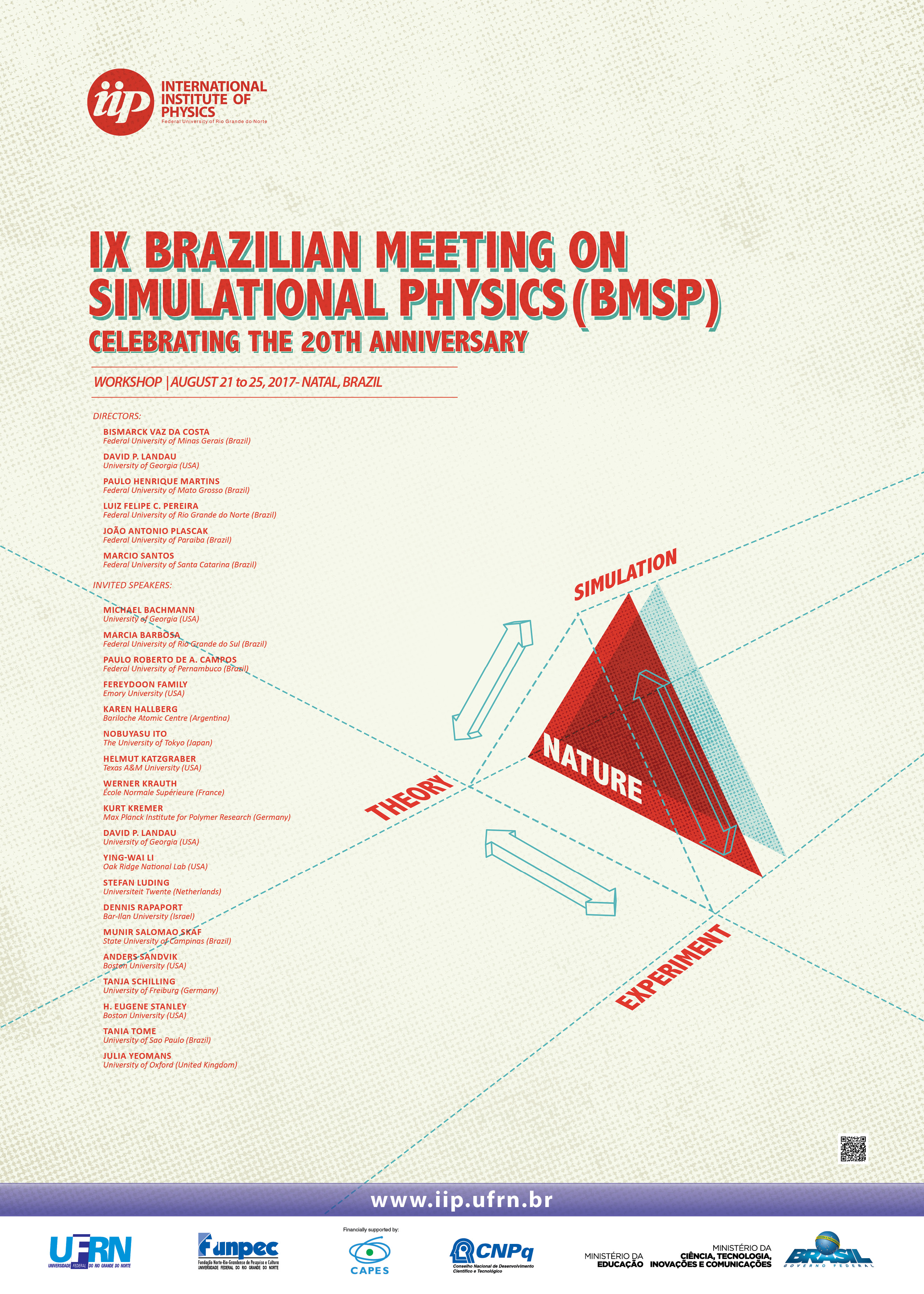 IX Brazilian Meeting on Simulational Physics (BMSP)
Workshop | Monday, August 21, 2017 - Friday, August 25, 2017
Directors:

Until recently, there were two major approaches to studying nature, either through theoretical analysis or through experiments. An experiment led to a theory that predicted the outcome of a new experiment to be carried out thus verifying the validity of the proposed theory or not. The in the electronic industry in the last decades, producing faster computers year after year, allowed the development of a new approach to the behavior of nature: through computational experiments or computer simulations.Today, computer simulations are applied in almost every basic branch of science, from physics, chemistry, and biology to the study of complex multidisciplinary problems, such as in materials science.
Today Brazil has a large community of researchers who use computer simulations in the development of their research projects. In this context, the Brazilian Meeting on Simulational Physics has been held since 1997, agglomerating researchers from Brazil and abroad, working in the most diverse branches of physics: Monte Carlo simulations, molecular dynamics, spins dynamics, phase transitions and critical phenomena, nanostructures, new materials, strongly correlated systems, quantum Monte Carlo, interfaces, granular media, membranes, protein folding, quantum computing, free energy calculations, biophysics and many other topics. The first BMSP took place in Belo Horizonte in 1997, two years later the second BMSP was also held in Belo Horizonte. The third, fourth and fifth editions of the event were held in Ouro Preto in 2003, 2005 and 2007. In 2011, the sixth edition of the BMSP was held in Cuiabá, followed by the seventh edition in João Pessoa in 2013 and the eighth edition In Florianópolis in 2015.
In this ninth edition of BMSP, celebrating 20 years of the event, we will gather scientists specialized in simulation in the most diverse areas of physics, chemistry, biology and materials science, to present the latest advances in methodology and techniques applied to the study of problems through computer simulations. The event will also promote interaction among scientists working in this area, with the goal of advancing the methods and techniques available today. This topic covers the interests of researchers who traditionally have different experiences and belong to communities that share similar interests but have little communication with each other. Finally, this workshop will be an opportunity for the community working in this area in Brazil to interact directly with scientists of similar interests, coming from Brazil and abroad. In view of the wide variety of techniques covered, the event will promote pedagogical lectures given by two invited teachers in the form of mini courses for students of various levels, as well as oral communications and panels to be presented by all invited participants and collaborators. The event has 18 confirmed guest speakers, as well as two mini-courses.
REGISTRATION FEE:
Students = BRL 400.00.
Postdocs/Professionals = BRL 800.00.
Registration fee: All the participants are expected to pay the registration fee. Members of the local community (institutions in Natal) are considered as free listeners and are exempt from paying the fee.
*Registration fee is accepted in cash only.
** Information about lodging will be posted soon.
FINANCIAL SUPPORT:
Available for those who qualify for financial help. You may apply for financial support when filling out your registration form (Registration page).
VISA:
Some countries are exempted from Visa requirements to enter Brazilian Territory. Please, make sure to know if you will need a visa.
Please, check here for more information.
YOUR STAY:
The participants who will receive accommodation support will stay at the Holiday Inn Express, in Ponta Negra. You can check it here
THE CONFERENCE:
The workshop will be held at the new building of IIP, inside the University Campus. The University Campus is 10 minutes away from "Ponta Negra Beach" which is the most popular beach in town and where our Invited Speakers/Participant will stay. The IIP will cover their accommodation at the Hotel Holiday Inn Express.
Every day, during the conference days, there will be a shuttle to take the participants from the hotel to IIP.
Please, find below some pictures of our building.
TRANSFER FROM THE AIRPORT:
Natal's airport is located 40km away from the Ponta Negra Hotels, where most of you will be staying. For this reason, we can arrange you a pickup transfer from the airport to the hotel. This has a cost of BRL 80,00. You can let us know at events@iip.ufrn.br
IN CASE OF ANY QUERIES, DO NOT HESITATE TO CONTACT OUR EVENT ASSISTANTS:
Stivny Batista: stivny@iip.ufrn.br
Rafael Lemos: rlemos@iip.ufrn.br