Data breaches, identity theft, online and phone scams are a reality in our lives today. Never reveal sensitive financial information to a person or business you don't know, whether they reach out to you via phone or text.
Please be aware that the International Institute of Physics, IIP, does not request payment information of any kind. Scammers sometimes approach participants claiming to be able to provide accommodation and asking for credit card information. Please do not give any information away. IIP will be in touch via official email regarding accommodation and financial support for qualified applicants. If you have any questions, please contact IIP events department at events@iip.ufrn.br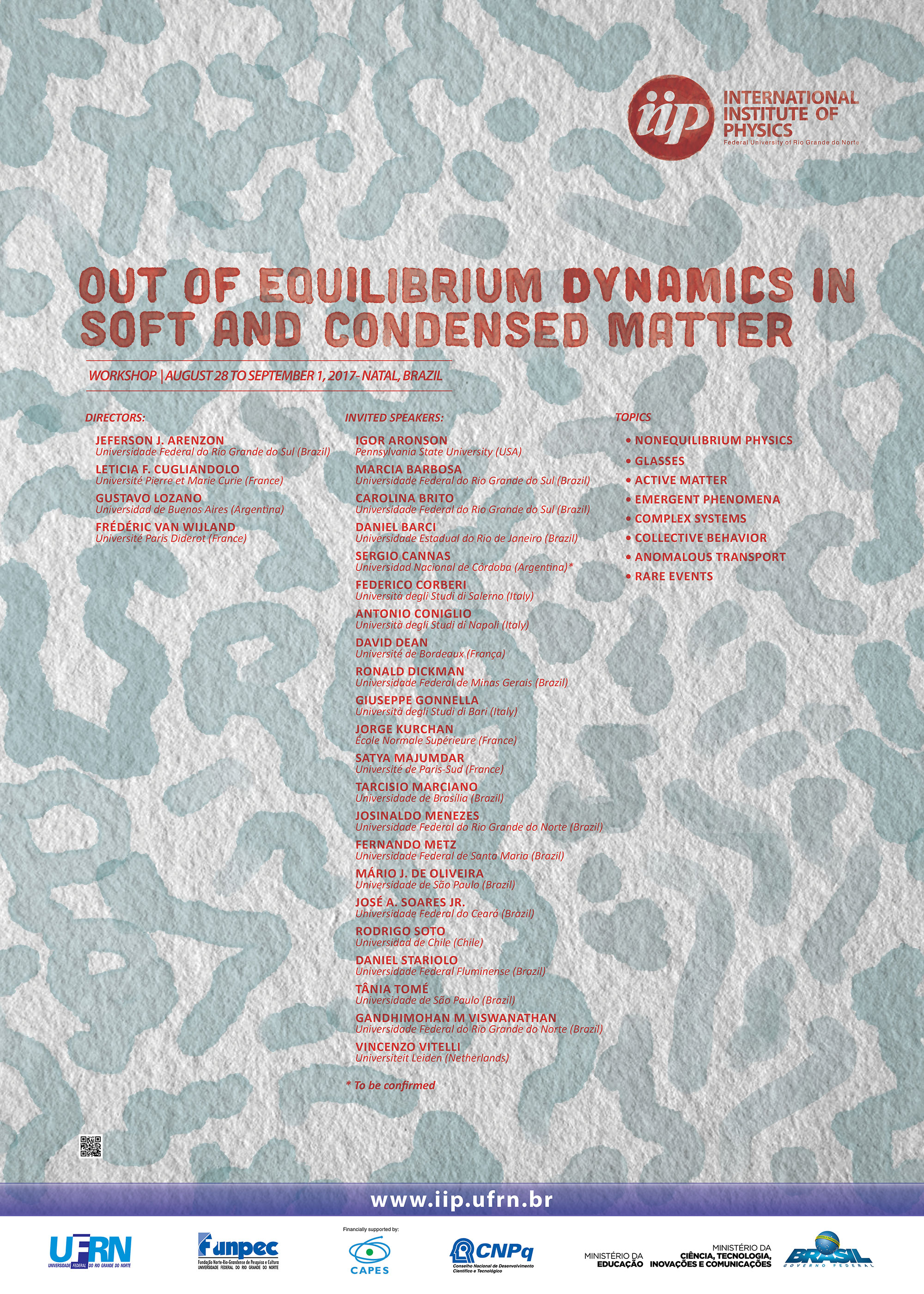 Out of Equilibrium Dynamics in Soft and Condensed Matter
Workshop | Monday, August 28, 2017 - Friday, September 01, 2017
Directors:

The goal of this workshop is to open a space for discussions of the latest results on statistical mechanics and evolution of out-of-equilibrium systems, with special emphasis on condensed and soft matter systems. It is a two weeks event. The first one is dedicated to the invited and selected talks, followed by a second week of a workshop intended to discuss more technical issues and setting the starting point for long time collaborations between participants.
REGISTRATION FEE:
Students = R$400,00 Brazilian reais.
Postdocs/Professionals = R$800,00 Brazilian reais.
Registration fee: The fee covers Lunches, Conference Dinner, and transportation from the hotel. All the participants are expected to pay the registration fee. Members of the local community (institutions in Natal) are considered as free listeners and are exempt from it.
*Registration fee is accepted in cash only.
** Information about lodging will be posted soon.
FINANCIAL SUPPORT:
Available for those who qualify for financial help. You may apply for financial support when filling out your registration form.
For more information, please contact our events department at events@iip.ufrn.br
VISA:
Some countries are exempted from Visa requirements to enter Brazilian Territory. Please, make sure to know if you will need a visa.
Please, check here for more information.
YOUR STAY:
The participants who will receive accommodation support will stay at the Holiday Inn Express, in Ponta Negra. You can check it here
THE CONFERENCE:
The workshop will be held at the new building of IIP, inside the University Campus. The University Campus is 10 minutes away from "Ponta Negra Beach" which is the most popular beach in town and where our Invited Speakers/Participant will stay. The IIP will cover their accommodation at the Hotel Holiday Inn Express.
Every day, during the conference days, there will be a shuttle to take the participants from the hotel to IIP.
Please, find below some pictures of our building.
TRANSFER FROM THE AIRPORT:
Natal's airport is located 40km away from the Ponta Negra Hotels, where most of you will be staying. For this reason, we can arrange you a pickup transfer from the airport to the hotel. This has a cost of BRL 80,00. You can let us know at events@iip.ufrn.br
IN CASE OF ANY QUERIES, DO NOT HESITATE TO CONTACT OUR EVENT ASSISTANTS:
Stivny Batista: stivny@iip.ufrn.br
Rafael Lemos: rlemos@iip.ufrn.br