Data breaches, identity theft, online and phone scams are a reality in our lives today. Never reveal sensitive financial information to a person or business you don't know, whether they reach out to you via phone or text.
Please be aware that the International Institute of Physics, IIP, does not request payment information of any kind. Scammers sometimes approach participants claiming to be able to provide accommodation and asking for credit card information. Please do not give any information away. IIP will be in touch via official email regarding accommodation and financial support for qualified applicants. If you have any questions, please contact IIP events department at events@iip.ufrn.br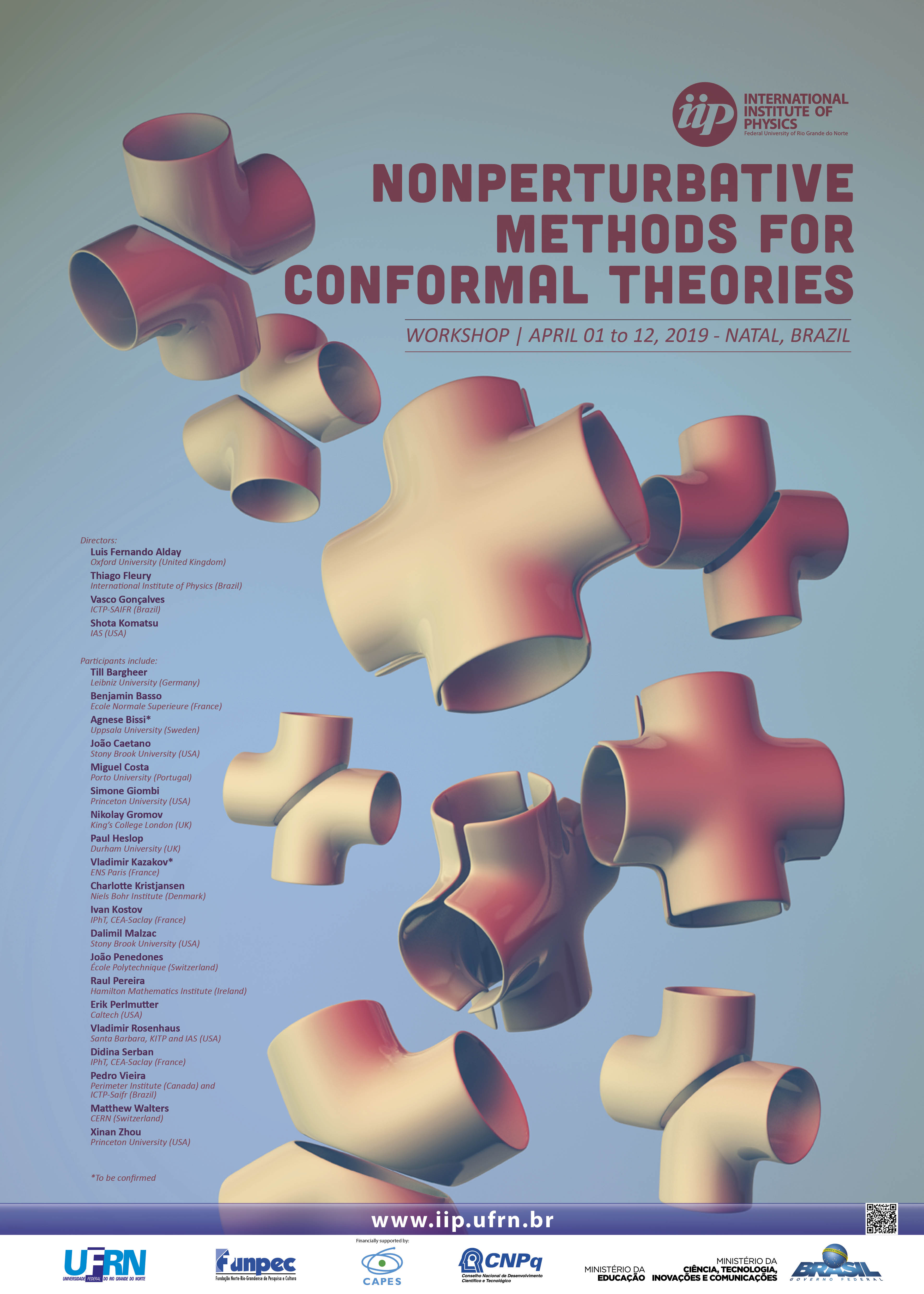 Nonperturbative Methods for Conformal Theories
Workshop | Monday, April 01, 2019 - Friday, April 12, 2019
Directors:

OVERVIEW:

The fields of integrability and conformal bootstrap have had an impressive development in the last few years. Currently many researchers are working on these fields and the community is quite widespread around the globe. Both fields methods solve conformal theories nonperturbatively. It is well known that conformal theories are important in many areas of physics such as gauge field theories, quantum gravity and the theory of critical points in statistical mechanics.

The idea of trying to use bootstrap methods for solving conformal theories is being developed for many years. In the case of two dimensions, conformal invariance implies an infinite dimensional algebra of conserved charges and many progresses were made. The higher dimensional cases received a lot of attention in the last ten years. In parallel, new integrability methods were developed to computed higher-point correlation functions.

The workshop will bring together researchers from both fields. We believe new links between the fields are going to be discovered in the future. Brazil hosted four events in the last two years about these topics. This will be the first one in the Northeast of Brazil.
MAIN TOPICS TO BE DISCUSSED:
Integrability in Gauge Theories;

Correlation Functions;

Fishnet Theories;

AdS/CFT;

Conformal Bootstrap;

S-matrix Bootstrap.
REGISTRATION


In order to assist the organizing staff to timely issue invitation and visa letters, book accommodation and communicate important information, the prospective particpants are kindly asked to regsiter by clicking on the "Register" button at the top of this page.
Registration deadline: February 01, 2019
REGISTRATION FEE
The policy of the International Institute of Physics with respect to organization of events demands collecting a registration fee from the participants. Members of the local community (institutions in Natal) are considered as free listeners and are exempt from paying the fee.
Students = R$ 400 Brazilian reais
Postdocs/Professionals = R$ 800 Brazilian reais


*Registration fee is accepted in cash only.
** Information about lodging will be posted soon.
FINANCIAL SUPPORT


Available for those who qualify for financial help. You may apply for financial support when filling out your registration form (Registration page).
For more information, please contact our events department at: events@iip.ufrn.br